We need young people with HIP or GROIN PAIN!
FREE

x-ray, physiotherapy & gym membership
Optional Biomechanics test with free FitBit and MRI
The PhysioFIRST study is the first in the world to investigate the most effective physiotherapy program for managing hip/groin pain in young adults.
Participants must be:
Aged 18-50 years
Have pain around hip/groin for more than 6 weeks
Have not had hip surgery
Have not had physiotherapy in the last 3 months
What participants will be asked to do:
Attend La Trobe University before and after participation (6 months) in the study:

for an examination of your hip
perform some physical activities
answer some questionnaires about how your hip pain impacts on your life

Obtain a

FREE

xray of your hip (if you haven't had one in the last 5 years).
Receive one of two

FREE

physiotherapy treatments weekly, for 3 months.
Receive a

FREE

gym membership to continue the program, for a further 3 months.
If you feel that you may be eligible to participate in this research or would like to know more, please contact Richard Johnston OR Sally Coburn
Email: r.johnston@latrobe.edu.au        s.coburn@latrobe.edu.au
Mobile: 0484 761 237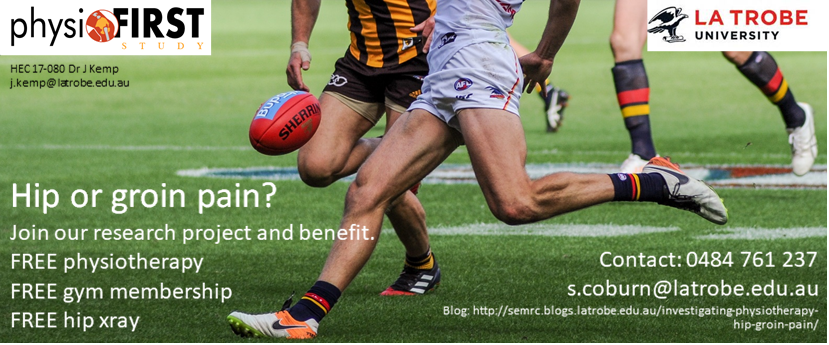 UHEC No: 17-080
This project is supported by:


Chief investigator: Dr Joanne Kemp
Email: j.kemp@latrobe.edu.au