The annual APA Physiotherapy Breakfast is always a highlight of the year and 2016 was no exception. A large crowd of physiotherapists and their medical guests assembled at an ungodly hour one Friday morning to mingle with old friends and colleagues, and listen to the latest cutting edge research.
The gig as keynote speaker on the day is greatly prized and this year, following in the footsteps of previous speakers from the La Trobe Sport and Exercise Medicine Research Centre – Kay Crossley and Jill Cook – Dr Jo Kemp was given the honour.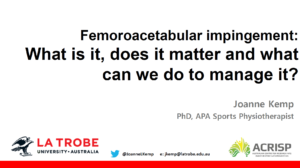 Jo took us through her journey of research into FAI (femoro-acetabular impingement) of the hip, describing the complex anatomy, pathology, imaging and treatment of the condition including surgery and rehabilitation. It was not hard to see why Jo's work has received such widespread international recognition.
Following the talk Professor Kay Crossley and two of our medical colleagues, hip surgeon Parminder Singh and sports physician Drew Slimmon joined Jo for the panel discussion.
The LASEM team were well represented in the audience and we were delighted to have our international visitor Professor Ewa Roos as our special guest on the day. The breakfast showcased the quality of research being performed at LASEM and we look forward to seeing the results of Jo's ongoing research program. 
Dr Jo Kemp discusses her hip related research plans