Running injuries are a common complaint seen in clinical practice. With so much information on running out there, it can be hard to keep up to date with best practices and current research evidence. La Trobe Sport & Exercise Medicine (LASEM) Research Centre are therefore proud to announce a two day running symposium.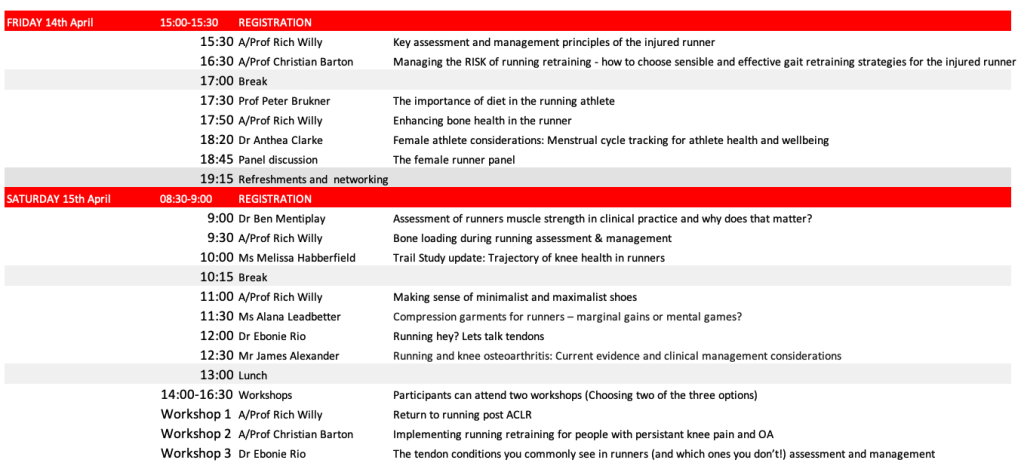 The Assessment and Management of Running Injuries Symposium 2023  is brought to you by the La Trobe Sport and Exercise Medicine (LASEM) Research Centre. Designed for sports and exercise medicine practitioners this symposium of world-leaders in running research and practice will showcase best practice and current research evidence aiming to expand and update participant knowledge on the assessment and management of running injuries in recreational and elite runners.
This symposium welcomes researchers, rehabilitation clinicians, physicians, surgeons, patients and athletes to attend.
This high quality PD event promises to provide clinicians with knowledge and skills to advance their current clinical practice.
Dr Rich Willy

Dr. Rich Willy is an Associate Professor in the School of Physical Therapy, University of Montana (Missoula, MT, USA) and the Director of the Montana Running Lab. He received his PhD in Biomechanics and Movement Science from the University of Delaware and his Masters of Physical Therapy from Ohio University. Dr. Willy has been a clinician for over 20 years specializing in the treatment of the injured runner. He has presented on lower extremity injuries to multiple Olympic sports medicine staffs from around the world as well as to the National Basketball Association. He has published over 60 peer-reviewed papers primarily on two populations: endurance runners and tactical athletes. His research aims to develop clinically effective treatments for individuals with patellofemoral pain, Achilles tendon injuries, and bone stress injuries. His research has been funded by the United States Department of Defense and the Foundation for Physical Therapy. He and his work are regularly featured in Runner's World and Outside Magazine. Dr. Willy treats runners and athletes of all levels, from the new runner to the elite competitor.
A/Prof Christian Barton

Christian as an Associate Professor and Senior Post-Doctoral Researcher at La Trobe Sport and Exercise Medicine Research Centre.  Clinically, he is a physiotherapist, consulting to people with persistent musculoskeletal pain at Complete in Melbourne, and has strong focus on building people's self-efficacy to live a more active lifestyle. He is particularly passionate about helping people stay active doing what they enjoy, including returning to running.

Christian's research focuses on non-surgical management, including exercise and behaviour change, in people with persistent knee pain, osteoarthritis and running related injuries. With a strong focus on knowledge translation and implementation. Key projects include co-leading GLA:D Australia (education and exercise program for osteoarthritis), and TREK (online platform providing health information for health professionals and consumers).  He is invited to teach courses all around the world related to running injury management.

Dr Ebonie Rio

Ebonie is a post doc researcher at La Trobe University and has completed her PhD in tendon pain, Masters Sports Phys, B. Phys (Hons) and B. App Sci. Her clinical career has included Australian Institute of Sport, Australian Ballet Company, Australian Ballet School, Melbourne Heart Football Club, Alphington Sports Medicine Centre, Victorian Institute of Sport, 2006 Commonwealth Games, 2010 Vancouver Winter Olympics, 2010 Singapore Youth Olympics, 2012 London Paralympics, 18 months travelling with Disney's The Lion King stage show (Melbourne and Shanghai tour).
Dr Ben Mentiplay

Dr Mentiplay is a Senior Lecturer in Sport and Exercise Science and a Research Fellow within the La Trobe Sport and Exercise Medicine Research Centre. Dr Mentiplay has a background in Sport and Exercise Science and completed his PhD in 2017 at the Australian Catholic University. He has a strong interest in biomechanics and applies his knowledge in various areas including in musculoskeletal, neurological, paediatric and sports related research. Much of Dr Mentiplay's research career to date has been in examining low-cost and portable technology for the assessment of biomechanics outside the laboratory.
Professor Peter Brukner

Peter Brukner is a specialist sports and exercise physician whose most recent position has been Australian cricket team doctor for the past five years.

Peter is the founding partner of Olympic Park Sports Medicine Centre in Melbourne and Professor of Sports Medicine at Latrobe University. A founding Executive Member of the Australasian College of Sports Physicians, he served two terms as President and played a key role in establishing sports medicine as a medical specialty in Australia.

Peter is the co-author of the widely used text book Clinical Sports Medicine and has been team physician for professional football clubs as well as national athletics, swimming, soccer and men's hockey teams including Olympic and Commonwealth Games. Peter was the Socceroos Team Doctor at the 2010 World Cup in South Africa and more recently Head of Sports Medicine and Sports Science at Liverpool Football Club.

He is the co-founder of the public health campaign SugarByHalf and is committed to the challenge of improving the nation's health with improved diet and increased physical activity.

Alana Leabeater

Alana Leabeater is a PhD Candidate in Sport and Exercise Science at La Trobe University. She recently completed her Honours at the University of Technology, Sydney, looking at contextual factors influencing AFLW match-play. She has previously worked for Triathlon NSW, the NSW Institute of Sport, Penrith Panthers NRL and the Nike Run Club. Alana's research is currently investigating the application of compression garments during exercise, and in acute and chronic recovery settings.
James Alexander

James is an APA Sports and Exercise Physiotherapist based in Port Stephens on the New South Wales mid-north coast. Since graduating with a Bachelor of Physiotherapy from Charles Sturt University in 2011, he has worked in a variety of settings including sports and musculoskeletal private practice, amateur sporting teams, and indigenous health. James' passion for assisting runners like himself, to overcome injury, improve performance and achieve their running-related goals, lead him to pursue further study. In 2019 he graduated from La Trobe University with a Master of Sport Physiotherapy. He is now completing his Master by research,  his research focusses on the prevention and management of knee pain in runners. By undertaking a qualitative study on a cohort of runners with a past history of knee surgery, he aims to gain an insight in their beliefs and attitudes about running and long-term knee joint health, effective management and injury prevention strategies.
ATTENDANCE
Attendee Type

Fee

$550 ($450 early bird – cut off March 14th)

$350

$250

$350

Student (click to register)

(evidence of student status required)

$200
For all enquires please email sallie.cowan@latrobe.edu.au