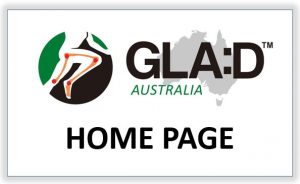 GLA:D® is an education and exercise program developed by researchers in Denmark for people with hip or knee osteoarthritis symptoms.
Research from the GLA:D® program in Denmark shows symptom progression reduces by 32%.
Other outcomes include a less pain, reduced use of joint related pain killers, and less people on sick leave. GLA:D® participants also reported high levels of satisfaction with the program and increased levels of physical activity 12 months after starting the program.
La Trobe University is now bringing you GLA:DTM Australia so that physiotherapists can provide this successful program to Austrailian's with hip and knee osteoarthritis.
Learning Objectives
Understand how the pathophysiology of osteoarthritis can influence treatment
Know the best treatments for hip and knee osteoarthritis including the evidence
Know the best exercise approaches for treating people with hip and knee osteoarthritis
Confidence to provide group and individual exercise class for people with hip and knee osteoarthritis
Be able to demonstrate the effectiveness of your treatment to insurers, and other health professionals
Be able to deliver effective patient education to people with arthritis
Develop the skills and knowledge to deliver an effective treatment program to people with hip and knee arthritis which can also generate new revenue for you and/or your clinic

You will be GLA:D you came!