Registrations are now closed
Running injuries are a common complaint seen in clinical practice. With so much information on running out there, it can be hard to keep up to date with best practices and current research evidence. La Trobe Sport & Exercise Medicine (LASEM) Research Centre are therefore proud to announce a two day running symposium. Aimed at sports and exercise medicine professionals, this symposium looks to expand and update participants' knowledge in the assessment and management of running injuries in recreational and elite runners.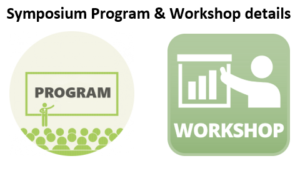 Keynote speakers include Assistant Professor from East Carolina University, Dr Richard Willy, tendon research Dr Ebonie Rio, world renowned sports physician and founder of Sugarbyhalf campaign Prof Peter Brukner,  as well as Dr Christian Barton, a clinical researcher who specialises in running related injuries.
Dr. Richard Willy

Dr. Richard Willy is an assistant professor form the University of Montana. His running research has demonstrated that mirror gait retraining can be effective in the treatment of patellofemoral pain in runners. Hip weakness has been shown to be a factor in runner's knee pain but surprisingly Dr Willy's research has shown that hip strengthening  does not change hip mechanics during running. You can listen to our own podcast where Dr Willy discusses running retraining in patellofemoral pain. For more information, check out Dr Willy's research profile which includes 729 citations and an H-index of 12.

Dr. Ebonie Rio

Dr. Ebonie Rio is researcher at La Trobe University and clinician currently working at the Victorian Institute of Sport. She has an interested in how understanding pain and neuroscience can improve our management of musculoskeletal conditions. She has a wealth of experience clinically working at the AIS, winter Olympics and Australian Ballet.

Prof. Peter Brukner

Professor Peter Brukner is a specialist sports and exercise physician, a founding partner of Olympic Park Sports Medicine Centre in Melbourne.  His extensive clinical experience includes being team physician for several AFL football clubs, and Australian national athletics, swimming, soccer and men's hockey teams. He has worked at multiple Olympic and Commonwealth Games and has previously travelled as the team doctor for the Socceroos and the Australian cricket team. More recently he has joined the fight against sugar by advocating SugarByHalf, a not-for-profit, independent organisation with the mission to help people cut down on added sugar and create a healthier world for ourselves and for future generations.

 

Dr. Melinda Smith

Dr Melinda (Franettovich) Smith is a Research Fellow at the University of Queensland where her current research aims to improve our understanding of intrinsic foot muscle function in foot pain conditions. Her research interests and publications extend across several areas, including biomechanics associated with sport and running related injuries, biomechanical effects of interventions such as taping and orthoses, measurement of foot posture and mobility, gait-retraining and sports related concussion. She has clinical and research experience in various settings such as private practice, school aged sport, community and elite sporting clubs, the military and the Australian Institute of Sport.

Dr. Christian Barton

Dr Christian Barton is a physiotherapist who completed his PhD focusing on Patellofemoral Pain, Biomechanics and Foot Orthoses . Dr Barton is an Associate Editor for the British Journal of Sports Medicine and Physical Therapy in Sport and has over 40 peer reviewed published papers. He regularly teaches running related courses around the world. Clinically he specialises in managing persistent and challenging knee and running related injuries at his clinic in Melbourne, Complete Sports Care. Dr Barton's research interests are running biomechanics, running-related injury, knee pathology, tendinopathy, and rehabilitation,

Glen Whittaker

Glen Whittaker is a podiatrist who is currently an Associate Lecturer and PhD Candidate at La Trobe University. He also works clinically at Fitzroy Foot and Ankle Clinic. Glen's PhD has compared the effectiveness of foot orthoses and corticosteroid injection for plantar heel pain. His research interests include plantar heel pain, foot orthoses, enthesitis, and psychological variables associated with plantar heel pain.

Dr. Danielle Hope

Dr. Danielle Hope is a senior accredited registrar of the Australasian College of Sport and Exercise Physicians. Dr Hope's specialty interest is with female and endurance athletes. She has also worked as team physician for Carlton AFLW, Medical Director for the Australian Commonwealth Youth Games team and independent competition doctor at Commonwealth Games.  Her interests in running and endurance events extends to having completed several ironman triathlons. Dr Hope has a passion for sport and exercise for health. She currently works at MP Sports Physicians, Victoria
WORKSHOPS (separate to the Symposium)
Details 
When – Friday 6th (3pm-7pm)/ Saturday 7th (9am-1pm)[Workshops 1:30-5pm] July 2018
Where – La Trobe University, Bundoora Campus (Plenty Rd & Kingsbury Drive, Bundoora VIC 3086) – Map (http://bit.ly/2hxtWGq)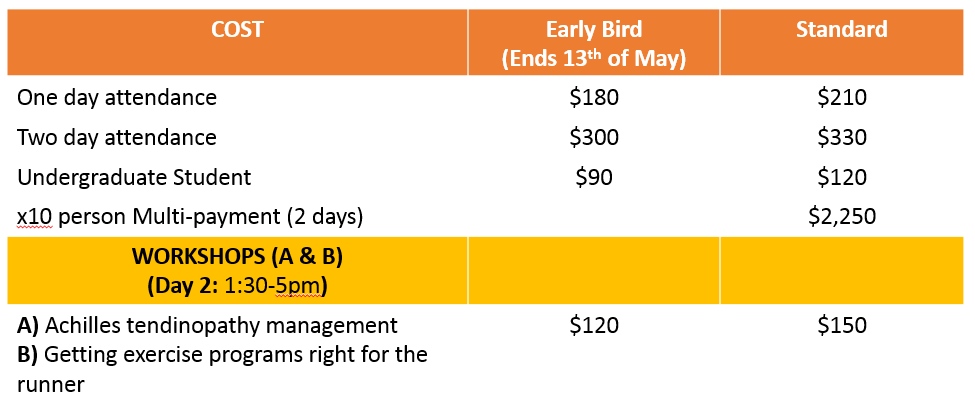 *** Workshop price includes both workshops and are separate to the symposium***
Register – Click here to get to the booking site 
 Email for any questions: (z.machotka@latrobe.edu.au)