(The Subacromial Pain and Rotator Cuff Trial)
Subacromial Pain Syndrome is a common shoulder condition that affects both men and women and is associated with pain on the anterior and lateral aspect of the shoulder, affecting many activities of daily living, especially lifting the arm up and out to the side. Other terms used to describe this condition include subacromial impingement, supraspinatus tendinopathy, bursitis, a partial tear of the rotator cuff or rotator cuff tendinopathy (or degeneration). Although surgery is often performed to help the symptoms associated with this condition, current research suggests that a structured exercise program delivered by a Physio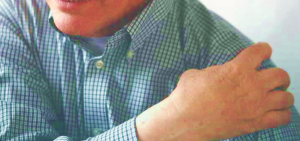 therapist may, in many cases, reduce the need for this.
Do you have pain in your shoulder or upper arm?
Have you been told by your treating heath practitioner that you have sub-acromial pain syndrome?
Don't forget, they may have used any of the terms listed above such as subacromial impingement, supraspinatus tendinopathy, bursitis, a rotator cuff tear or tendinopathy/tendinitis.
Study Aims:
Assess the effectiveness of three different structured shoulder rehabilitation programs for improving pain and function in people diagnosed with subacromial pain syndrome/rotator cuff tendinopathy.
Eligibility:
To be eligible for involvement in this research project you need to be:
Aged 18-80 years.
Experiencing pain in the shoulder/upper arm that does not also involve numbness or tingling in the arm or hand.
Pain on lifting the arm upwards or out to the side or when lying on the shoulder at night.
No previous trauma or surgery to the affected shoulder.
If you have had a diagnosis of osteoarthritis in the shoulder.
Contact:
If you feel that you are eligible to be involved please contact either:
Rita Kinsella on: 0451 090 729 or via email: r.kinsella@latrobe.edu.au
Tania Pizzari on:  9479 5872 or via email: t.pizzari@latrobe.edu.au
Ethics Approval: LRR/16/SVHM/169