Plantar heel pain (commonly known as plantar fasciitis) is one of the most common conditions affecting the foot. It is a chronic condition affecting approximately 10% of the population, that can result in significant pain, disability, and reduced quality of life.
There are numerous interventions used to treat plantar heel pain, and two of the more common interventions are foot orthoses (shoe insoles) and steroid injections. However, there is limited evidence on which of these two interventions is more effective.
The SOOTHE Heel Pain Trial is an exciting new area of research that aims to investigate whether foot orthoses or steroid injections are more effective for plantar heel pain. We are seeking 100 participants over the age of 18, who have had plantar heel pain for more than 4 weeks. Participants will receive free treatment and ongoing monitoring for the duration (3 months) of the trial.
If you would like further information please see the website www.heelpaintrial.com, Facebook, Instagram or Twitter pages.
For the opportunity to take part in this exciting research, please contact Glen Whittaker on (03) 9479 5785 or g.whittaker@latrobe.edu.au.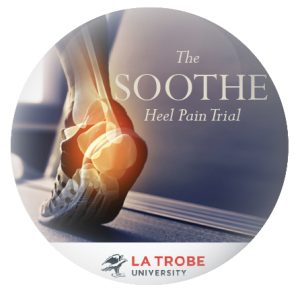 La Trobe UHEC application number 15-120. Chief investigator: Associate Professor Karl Landorf