Why I like it: Predictability, early identification. This study outlines features that we can be aware of early following ACLR that can predict those with worsening symptoms as early as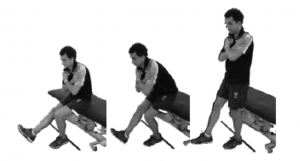 3 years post ACLR. This gives meaning to outcomes measures we can perform post ACLR and help with patient motivation.
Take home message: The one leg rise test is a useful clinical assessment tool that can be assessed with minimal equipment, with predictive meaning. It can give a patient an early rehabilitative goal to work towards (perhaps starting with double leg, moving to single and different heights)
Why I like it: Assesses two different measures of quadriceps strength: normalised to body mass and comparing to non-operated limb. Also, again these measures provide meaningful assessment that predicts future outcomes. Patients love numbers!
Take home message: Deficits may be present in both limbs following ACLR, important to consider this in our rehabilitation and outcome measures for return to activity/sport
Questions: Stay tuned for an upcoming blog on all things objective strength assessment – equipment needed, how to and the evidence.
Why I like it: An easy to read commentary that is clinically relevant and nicely summarises a large amount of high quality research.
Take home message: Anterior knee pain and PFJ OA are common early after ACLR – must be mindful of rehabilitation exercises used in those at risk.
Questions: Who is at risk?:  See next months blog for a summary of risk factors for PFJ OA… "Do you know if your patient had a PFJ cartilage lesion at time of injury…?