An early morning Jetstar flight to Launceston to hear Tasmanian PhD candidate and podiatrist Narelle Wyndow at the Tasmanian State Podiatry Symposium was well worth it.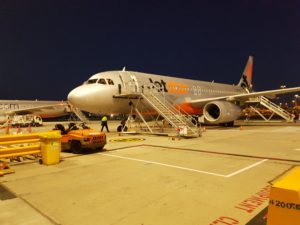 "The patellofemoral joint (knee cap) is the most common form of knee osteoarthritis" says Wyndow. 69% of people with knee pain over the age of 40 will have knee cap osteoarthritis.
It is most likely that knee cap osteoarthritis is linked to long standing knee cap pain, beginning as early as adolescents. Importantly "patellofemoral (knee cap) pain is not self-limiting and often impairs physical activity" in the long term. This means it can have significant health implications including increased risk of cardiovascular disease and Diabetes.
Wyndow described many similarities between physical deficits in knee cap pain in younger people, and knee cap osteoarthritis later in life, including:
Altered tracking of the knee cap
Hip muscle weakness
Knee muscle weakness and imbalance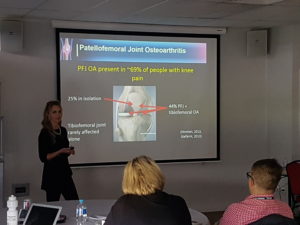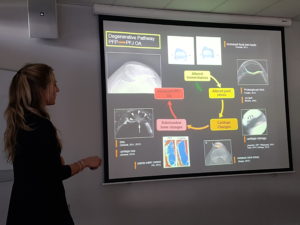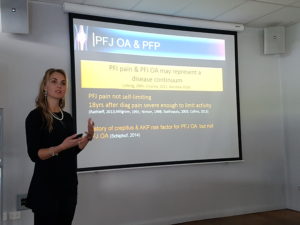 Considering these similarities in physical deficits, similar treatments for both groups may also help Wyndow suggests.
"Physiotherapy has been shown to be effective in older and younger people with knee pain. There is also good evidence which suggests that foot orthoses (shoe inserts) can effectively treat younger people with patellofemoral (knee cap) pain. But, no one has looked at osteoarthritis."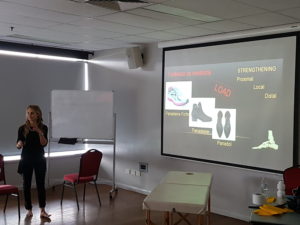 Wyndow's current PhD project involves evaluating the effectiveness of shoe inserts and supportive footwear to treat knee cap osteoarthritis. She is quietly optimistic regarding the likely results, particularly considering earlier work she has completed.
At the symposium, Wyndow reported significant improvement in pain and symptoms in a 52 year old woman with knee cap osteoarthritis 4 months after receiving shoe insoles and more supportive footwear. The promising part she says is that the bone marrow lesions, seen as part of the osteoarthritis disease, shrunk in size dramatically. This shows some aspects of arthritis can be reversed.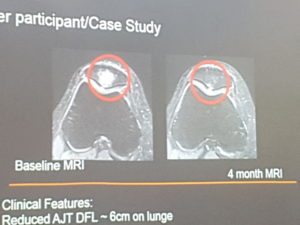 In the afternoon session, Wyndow facilitated a practical session on how to customise shoe insoles to people with knee cap osteoarthritis.
The important message here was that regardless of what method podiatrist used to prescribe shoe insoles to people with knee pain, they should reduce pain and improve function. Additionally a "foot orthoses (shoe insert) needs to be comfortable."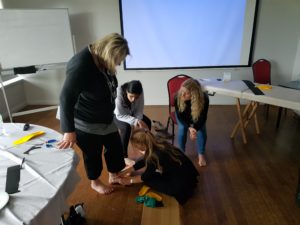 Wyndow's three objectives with prescription prescription of shoe insoles include:
Support and stabilise any foot or skeletal problems
Control or reduce any excessive foot motion
Improve balance and sensory input from the persons support surface
There is a lot of debate amongst physiotherapists and podiatrists about what type of shoe insoles should be used for people with knee pain. Whether to use off the shelf or more expensive customised shoe inserts "depends on the individual" Wyndow says. "If there are foot deformities or the person is going to need them for a long time, customised are a better option."
At the end of the day, Wyndow summed up her main point for participants – "Physiotherapists should consider the potential influence of the foot and treatments such foot orthoses (shoe inserts) when treating knee pain."
Follow: @NWyndow