Historically, academic journals have been the primary medium for translation of research evidence to medical professionals. This dependence on one source for information may be the key reason for ineffective research evidence translation.
To publish research evidence in an academic journal, a researcher is required to:
Write their findings into a report
Have this report scrutinised by their peers and an editor of the academic journal they wish to publish in
Address any concerns of their peers or the editor through either changes to the written report, or articulate why concerns are unfounded
After doing all this work without receiving any payment from the publisher of the academic journal, sign over all copyright to them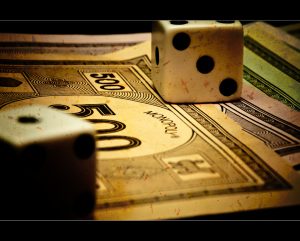 Most of the work to produce a publishable research paper is completed by people who are not employed by the publisher. This helps ensure academic journals are profitable entities for publishing companies. The average profit margin across all major publishers of academic journals is an estimated 35% on approximately US$9.2 billion revenue annually.
They make the majority of their money by charging subscription fees paid by individuals and libraries to access publications, essentially setting up a 'pay wall'. This 'pay wall' then becomes a major barrier for medical professionals wanting to access the latest evidence.
There are many debates regarding how ethical the practices of publishing companies are and how to fix a clearly 'broken system'. Those interested in reading more on this topic should go to articles from 'The Wall Street Journal', 'The Washington Post' and 'The Guardian'.
The current publishing funding model is not the only reason academic journals are ineffective at translating research to medical professionals. At present, academic journals do not give the audience what they need. In fact they fail to engage the majority of the audience.
What are the barriers?
Despite their profitability, academic journals are largely ineffective in translating knowledge of research evidence to medical professionals who need it. It is estimated that there is a 17 year lag between the completion of a research study and translation of this new evidence into the practices of medical professionals. Even then, it is only partially translated, within often key information missing. Our recent research has identified a number of possible reasons for this in Sports Medicine, including:
Access to information: The majority of research published is behind some form of 'pay wall' with subscription required to allow access to content. The majority of medical professionals do not have subscriptions due to high costs.
Comprehension: Medical professionals don't always understand all the information contained within academic journal articles due to the use of scientific writing formats and style (jargon) is common for medical professionals.
Time restraints: The time required to acquire knowledge from academic journal articles is enormous, and not feasible for a busy medical professional. There are an immense number of lengthy publications each year – typically 3000 to 5000 words. Additionally, most medical professionals interviewed in previous research say the content is very dry – typically large slabs of text with minimal images – meaning they rarely all the content contained in the academic journal article.
Considering these barriers, addressing limitations to the funding model for our academic journals alone to make content 'freely available' will not reduce the lag in translation of research evidence to medical profesionals. Publishing companies must embrace innovation to also address 'comprehension' or 'time restraint' issues.
Where to next?
Publishers have a responsibility to drive new innovations which provide effective research translation to medical professionals. If they don't, academic journals could very well go in the same fiscal direction as print media has recently.
After centuries of rising profits, print media has seen a catastrophic and rapid fall since the rise of digital innovation. Similar digital innovations are beginning to be used by medical professionals for sources of new research evidence, often more frequently than the academic journal articles originally reporting the research.
Various innovations which improve sports medicine research translation have emerged in recent years. These include blogs, podcasts, and other shorter freely available information summaries for the online reader.
A leading Sports Medicine academic journal, the 'British Journal of Sports Medicine' (BJSM) has developed a blog in 2008 and podcast in 2009, with freely available research evidence content.
The blog articles are generally short (< 1000 words), complemented by images and graphics. They possess far less scientific jargon compared more traditional academic journal articles. This structure is consistent with recent recommendations from the blogging platform 'Medium'.
Research by the medium.com team found that a blog post which was seven minutes long was most likely to capture and sustain an audience's attention. This equates to about 1600 words of pure text, or 1000 words if complemented by images and graphics.
BJSM blog topics are varied. They include current 'hot topics' which are also featured in mainstream media stories. Recent examples include expert opinions on Maria Sharapova's drugs controversy and Tiger Wood's recent low back injury and associated misconceptions. This approach improves reader engagement, providing an effective forum to discuss sports medicine research evidence that relates to these stories.
Additionally, the BJSM blog contains summaries of research evidence for a particular topic, highlights from recent conferences, and recent published papers in the journal. This allows the reader to obtain a large amount of new information without the burden of needing to access all sources which contribute. Popular blogs from other sources are also republished to improve their reach, providing complimentary promotion for both the original source and BJSM itself.
Most importantly, this content is all free!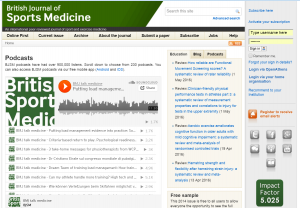 BJSM podcasts typically involve interviews with international experts. This allows sports medicine evidence to be translated to medical professionals in a format conducive to consumption during a walk, run, or daily commute. Clearly, if 'time constraints' is a major barrier to consuming new research evidence knowledge, this medium can help address this.
Each BJSM podcast is limited to approximately 20 minutes. This reflects two key considerations: (i) previous research indicates concentration of students tend to reduce sharply after 15-20 minutes; (ii) and the average length a listener stays connected to podcasts at one time is 22 minutes according to Stitcher, a podcast phone application service.
The effectiveness of this free podcast to reach listeners is highlighted by the fact listens are approaching one million from 230 podcast publications.
More recently a phone application for iOS and Android was created by BJSM. This innovative approach for sports medicine journalism houses content from their blog and podcasts and other free content. The platform is free, allowing easy access and consumption of new sports medicine research for busy medical professionals.
The BJSM phone application doesn't end with the blog and podcast though. It also houses the journal's  mobile website, twitter feed, Facebook, a YouTube channel, upcoming sport and exercise medicine events readers may be interested in, and editor's choice academic journal articles. Importantly, this entire content is freely available to medical professionals who rarely have subscriptions to academic journal content.
Editor's choice articles housed within the phone application are an important innovation within their own right. These articles are chosen by the editors Karim Khan, Babette Pluim and Kay Crossley in consultation with theme issue editors and member societies. Choice is based on their immediate relevance to medical professionals. The publisher removes the 'pay wall' and allows free access, addressing the 'access to information barrier'.
This is clearly an effective publishing innovation at translating research evidence to medical professionals, and improving readership. The BJSM publishes the 'Altmetric' score for all articles published in the journal. This metric evaluates the reach of research outputs to media outlets and social media sites. Editor's choice articles typically score very highly on this metric. All editor's choice articles score in the top 5% of all academic journal articles evaluated by 'Altmetric', and typically are in the top 10% of articles from BJSM itself.
Put together, these innovative approaches by BJSM are improving research translation in sports medicine. However, there is still a long way to go. Other journals are encouraged to follow similar initiatives.
New effective modes of research evidence delivery and platforms for medical professionals are also inevitable. Publishers must watch for their emergence and embrace them as they emerge. Otherwise, their ongoing relevance is at risk in the future.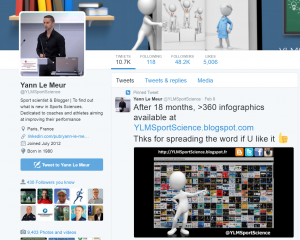 This novel information portal was set up by French Sports Scientist Yann Le Meur. Its purpose is to translate 'what is new in Sports Sciences' to the masses via simple infographics.
The infographics take a research paper, mostly related to sports performance, and summarise key methods and findings. Impactful infographics typically contain around 400 words, taking 2-3 minutes to read. This is a significant reduction in the reading burden of 3000 plus word academic journal articles, taking 10-15 minutes to read.
The efficiency of infographics to translate research evidence has clearly been well received by medical professionals around the world. In 18 months, more than 360 infographics have been published on the @YLMSportsScience page and Yann's twitter following has reached almost 50K.

Infographics are incredibly effective research translation tools. People are 6.5 times more likely to remember new information from an infographic compared to reading the same information in text only. Infographics in other areas of sports medicine, particularly related to injury treatment and prevention, should be adopted in the future by publishers. Their use would provide great complimentary sources of information to traditional academic journal articles. With publishing support implemented, any academic journal could make them a mainstay of their publications.
Concluding remark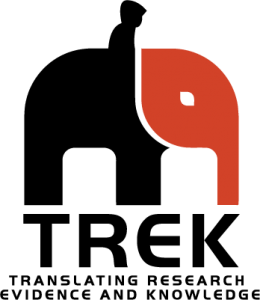 All these emerging innovations are great. Future innovations may be better again. However, the burning question remains. Who pays for the creation of required content?
The author?
The publisher?
The reader?
Someone else?
I don't have an answer, but someone will have to. Particularly if we are serious about effectively translating sports medicine research.